Winter Prep and Driving Tips + 3 Ways to Save Money
The best way to save money on car insurance is to drive safely. Sounds obvious, but we actually have a ton of tips to help you be prepared and winter-smart so you CAN drive more safely. Read on for how to prepare, what to carry, and some driving tips including heading to the mountains!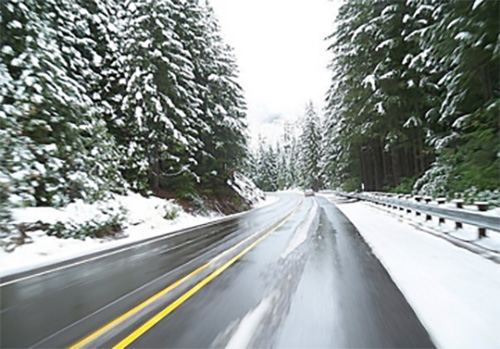 Cold Weather Prep Before You Head Out
Exterior & Under the hood:
Check the tread on your tires (and have them rotated if it's time). Prevent avoidable slipping in bad weather.
Get your battery tested. Prevent getting stranded in a tough spot with a dead battery.
Help your windows stay clear using RainX to keep rain sheeting off the window. Top off windshield washer fluid and replace wiper blades if needed to keep your ability to see as clear as possible.
Inside the car:
Enable the Do Not Disturb While Driving feature on your phone* or find a free app that will eliminate that distraction.

*In 2019, traffic accidents claimed the lives of over 36,000 people in the US, and distracted driving is the cause of too many. This tip alone can improve your driving the most!


Know where to put your phone. Secure your phone with a phone mount for cars.

They make them to fit in cup holders, vent clips, on dashboards-- everywhere. Keep it where you can hear driving instructions but also keep it safe and not tempting. If there is an accident, it's more likely to be where you can reach it quickly instead broken from being a projectile after impact.




Secure everything else in the car.

You can find a lot of clever organizing tools for your car including hooks that hang on headrest posts, wallets for car registration and insurance, collapsible bins for transporting items, seatback organizers for passengers, trunk organizers for buying groceries or tidying your roadside emergency supplies, and visor organizers for sunglasses and nighttime driving glasses.

Make sure kids are in appropriate car seats for their ages and sizes, and keep a bin of activities and toys secured next to their seats where they can reach. A pacifier clip can also double as toy clips to free you from needing to retrieve a fallen toy or book.

Keep pets secured in their zone in the back of your vehicle where they can't roam and distract.


Carry the right supplies to be ready for any season. Do you much as you can to minimize your time on the side of the road. Besides asking us about adding roadside coverage to your policy, you can:

Be prepared for taking care of something outside the car:


Warm waterproof jacket
Hat
Waterproof gloves
Waterproof shoes
Waterproof tarp to kneel on while troubleshoot or put on snow chains
Something to make you visible on the roadside like a safety vest
Something to make your car visible on the roadside, like roadside safety disks or flares
Flashlights and spare batteries


Be prepared for waiting for extended periods of time. Inclement weather can cause major delays or complicate car problems.


Blankets
Water
Food/snacks
Cell phone charger
Gallon-size baggies for wet/muddy clothes and 100 other uses
Wet wipes to get dirt, grime, and oil off hands
Small amount of spare medicine- anything that could be unsafe to delay like insulin or an inhaler for asthma


Be prepared for a car breakdown or accident.

Roadside safety disks or flares
Be visible with more than just hazard lights to warn other drivers. Roadside safety disks are inexpensive, reusable, and no risk for igniting brush unlike flares.


Spare tire and jack and lug wrench.
Practice taking off and putting on a spare tire at home. Know where the jack points are for your car and how to get the lug nuts off and on (in a star pattern!). You can carry fix-a-flat a flat from a puncture, but be warned that it may void the tire warranty and cost extra to have the foam cleaned out or replace the tire.


Fluids- Windshield washer fluid, coolant, a quart of oil, and a funnel.
If your car starts steaming or smoking, it could be short of oil or coolant to control the temperature. Warning: Don't open either cap until the engine has completely cooled.


Jumper cables or a portable battery charger.
Be prepared for a dead battery. Cold temperatures make a car harder to start, and that battery that limped along through summer may not last the winter. Make sure to follow the instructions exactly.


Emergency kit including:


Car fire extinguisher, properly mounted for safety
First aid kit with gloves and mask
Pen and paper for getting information from witnesses and anyone involved. Use this as a backup for your phone in case it's damaged in an emergency.
Seatbelt cutter and glass breaker tool
Your insurance card with steps to take in an accident


You can't anticipate when it might happen to you or someone near you, so be prepared as much as you can. It could save a life.

Snow and Ice Tools


Ice scraper & snow brush
Tire chains & tensioners (or better yet- self-tightening tire chains!)
Wheel chocks
Cat litter or sand for traction when spinning out or stuck
Ice cleats or shoe chains to keep your foot traction
Hot Hands hand warmers
Tips Once You're On the Road
Leave it in park until you are ready to focus. Avoid distracted driving accidents!

Make time in your morning schedule to defrost or deice your car.

If you haven't left yet, program the driving directions, eat the sandwich, and respond to the text BEFORE you put it in drive

If you're already driving, pull off the road if you need to adjust something. Adjust driving directions, eat the snack from the drive thru, put on makeup (we've seen it on the road), shave (we've seen it on the road), retrieve the dropped toy for the baby, put on a jacket- just do it from a safe parking spot instead of in motion.


Slow down, especially in inclement weather. Besides putting you at higher risk for accidents, speeding could result in a ticket that raises your insurance costs. Plan more travel time and increase the distance between you and other cars. Avoid hydroplaning during heavy rains by slowing down and using extreme caution; if you start to hydroplane, remain calm and use light pumping action on the brakes too slow until you find traction.


Use your regular headlights, not high-beams, if you are driving through fog or heavy snow. If you are the lead car in a snowstorm and are panicking, turn your hazard lights on and go as slow as you need to in order to find a safe place to pull out; let the line pass so you can follow it. Locals often know the road better than you and will be able to guide the line of cars faster and safer.


Drive a low, steady speed and do not brake or stop when climbing a snowy or icy hill. Downshift to 1st or 2nd gear (yep, that's what the 1 and 2 are under the D in an automatic). If you have rear wheel drive, make sure you add extra weight in the back end beforehand to keep tires from slipping.


Know when to put on chains in snowy areas: a) the first time you feel the tires slip a little or b) at a chain control stop.



Buy chains that fit your tire size. Your tire size is printed right on your tires; price depends on size. Get tire chain tensioners if they need adjusting. For a little more, you can buy self-tightening chains that automatically tension and center the chains in the first 10 feet of driving. Don't buy cables- they don't work very well and break easily. Autosocks are approved in all 50 states as an alternative traction device, but they are expensive and can wear out quickly.


Practice putting on chains at home at least once to understand how it works before you're out on a snowy wet road.


Make chain installation easy and fast by using a hydraulic jack and wheel chocks (to put behind your back wheels to keep it the car from rolling). Follow the instructions to jack your car up to lift each tire off the ground, drape and hook chains (hooks facing outward) around each tire, center the chain on the wheel and connect the hook to close them as tight as possible. Use tensioners to tighten more if needed. This method, instead of driving onto them, gets them on in record time and more accurately keep you from throwing a chain while driving or ripping up your wheel wells from loose chains. WSDOT also issues permits to chain installers at chain checkpoints; when they are present the going rate is $25 per car/light truck, $25 per tire per large truck (10K GVW) and smaller fees for removal. Self-tightening chains eliminates the need for a jack or installers!


Leave cars with low profile tires at home; you can only use cables or Autosocks on them, and real wheel drive is a disadvantage for steering and braking in the snow.


Chains go on the front tires for front wheel drive and all wheel drive and the rear for rear wheel drive.


You should only drive a MAX speed of 30 mph with chains on, so don't put them on 3 miles ahead of time in order to beat the traffic. Driving for an extended time on bare pavement risks breaking a chain or wearing down your tires (and the road).


Cars with 4WD and AWD and have appropriate tires (snow tires will have M+S printed on them) can drive without chains in "Chains Required" conditions as long as chains are in the car but must have them on in "Chains Required on All Cars" conditions.





Mountain curves are different than flatland driving, especially if you're in snow. Remember to brake BEFORE the curve, not during the curve, and let momentum naturally carry you through the curve.


STOP hitting the gas pedal if your tires are spinning out in snow. If you are stuck, you can try a few things:



Put sand, cat litter, or even evergreen branches where the tire meets the snow
Try rocking the car back and forth and gently press the gas
Let some of the air out of your tires to increase the tires surface area on the snow.
Worst case scenario, put your floormats where the tire meets the snow to provide traction.



Put your hazards on if you are stuck beyond help, contact WSP if you can, and stay buckled. Do not try to walk for help in extreme inclement weather.


Remove snow from the top of your car if it has accumulated while you have been stopped in a snowy area. Snow flying off of moving vehicles is dangerous and can either slide forward and block your windshield or slide off the back and hit the car behind you.

And finally, 3 More Ways to Save Money!
Find out about other discount opportunities that you may not know about. Some policies have discounts for having security alarms, lowering annual mileage, or multi-line discounts.


Look at raising your deductible to see if it will significantly lower your premium.


Call us to do a coverage checkup! The huge advantage you have with Sea Mountain is that we do the work of shopping around for the best coverage and rates for you, so you can save money and time. If you don't have an auto policy through us, we would be happy to check for better rates for the kind of coverage you already have!